When the idea to create a "solar garden", in which local or city residents could buy "plots" in a regional solar farm, began to evolve, its advocates had no idea they would end up being delayed by a punishing federal tax, a global pandemic and a foreign war.
Nonetheless, earlier this month the final panels were bolted into place at the Grong Grong Solar Farm, which is to host the Haystacks Community Solar Garden, and by year's end it is hoped the first "solar gardeners" will begin to receive the benefits of the clean energy it produces.
The model is simple. Supporters can either buy shares in the broader community solar farm, or they can purchase "plots" in the garden. All 175 plots have been sold, for $4200 each. Their owners will receive a discount of $505 a year on their electricity bills for the next decade, while the family that owns the land on which the solar farm has been built is benefiting from the lease.
"It's a little bit of income-proofing for us," said Gemma Purcell, who with her husband, Reiner Meir, grows cereals and runs cattle and sheep on the farm not far from Narrandera in the NSW Riverina.
The income stream will be welcome, she says, particularly if dry weather sets in, but she was drawn to the idea because she wanted to contribute to a climate change solution. Using her land to help create a medium-scale solar farm that would give access to the benefits of solar to renters and apartment owners in cities made sense.
She recalls telling another of the project's proponents, Kristy Walters, director of the Community Power Agency that, "we grow the cereal and grains that make your breakfast and we grow your meat, we may as well grow your energy too."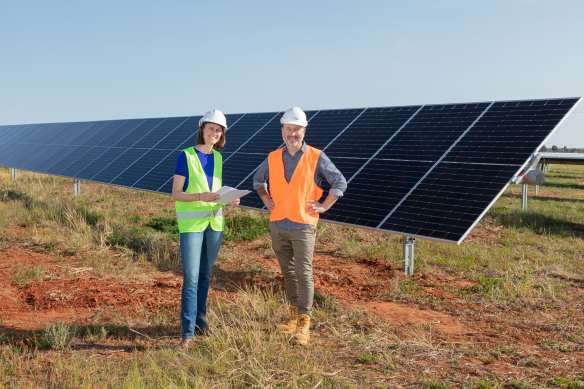 Conversations that began in 2016 evolved into making plans between Purcell, the Community Power Agency and an energy retailer. By the time they had found a solar developer, Komo Energy, and were ready, the COVID-19 pandemic had brutalised supply chains, causing delays and driving up costs. As the situation eased, the Russian invasion of Ukraine shook up the energy market, eventually knocking out the electricity retailer the farm had begun discussions with.
The enterprise suffered another blow when they discovered a tax regulation change introduced under the Abbott government imposed heavy impost on not-for-profit renewable energy outfits.
Walters says many of the garden's subscribers are as interested in supporting renewable energy as they are in cost savings. One purchaser, she says, bought three plots for families who lost their homes in the Lismore floods. The gift will ease their bills. Others have been bought by parents of children starting their lives in city apartments without space for solar.
While Australia has the highest per capita uptake of rooftop solar, about 30 per cent are "locked out" because they rent, live in an apartment, or have an unsuitable roof. A solar garden provides a way to access those benefits, says Walters.
The relatively small scale of the development – about 1.5 megawatts of power generated on a parcel of land about the size of a Bunnings store with its car park, according to Purcell – means it can connect to existing power lines without the need for expensive infrastructure, says Walters. Once the switch is flicked, it will generate enough electricity for around 700 homes.
Purcell says the smaller scale of the development has also reassured neighbours who are not affected by a change to their views or troubled by a significant loss of local agricultural land, but do benefit from local jobs and localised decision-making.
Resistance to new renewable energy infrastructure by some in regional communities has been identified as a key stumbling block in the race towards transition around the world, including in Australia, where it is delaying the government's efforts to reach a target of 82 percent renewables in the grid by 2030.
"Smaller developments like this are not the solution, but they are part of the solution," Walters said.
Now that her group has gone through the ringer as a pioneer – securing the approvals, contracts and agreements needed to make smaller community energy projects viable – she believes those who follow will find the path easier and cheaper.
"We have solved a lot of the problems that future solar gardens will face, we can pass on all that knowledge."