An innovative new community project aims to help Australians who are locked out of rooftop solar join the clean energy revolution.
Australia's first large-scale solar garden, to be built in the NSW Riverina region, is giving climate-conscious Australians the opportunity to fund infrastructure for a clean energy future – and save on their energy bills.
The Haystacks Solar Garden project is aimed at people unable to invest in residential rooftop solar. It was initially launched in 2020 with memberships for NSW residents, but has recently expanded to residents from Victoria, ACT, South Australia, Tasmania and southeast Queensland.
Anyone eligible for an account with electricity retailer Energy Locals can purchase a "plot" in the Haystacks Solar Garden. In return, "gardeners" will receive an estimated $505 credit on their electricity bill each year for 10 years.
"We're going to make solar available for up to 30 per cent of Australians who are locked out of rooftop solar," says Kristy Walters, director of Community Power Agency and chair of Haystacks Solar Garden Co-operative.
"This is a good solution for renters, apartment dwellers and people who can't put solar on their roof for whatever reason."
Unlike electing to pay a provider for clean energy, the project allows participants to take an active role in Australia's drive to reduce carbon emissions.
"With this project, people can actually say they're helping to build more renewable energy," explains Walters to EcoGeneration.
"In the sector, it's known as 'additionality'. With the Haystack Solar Garden, the 1.5MW solar farm wouldn't happen without solar gardeners purchasing plots to help fund it.
"It's an exciting project to be part of, creating the first of its kind in Australia. This model is popular in Europe and the US, but it's the first time it's been brought to Australia at this scale."
The Haystacks Solar Garden is in the process of signing up 333 solar gardeners for each of the project's plots, who will all be members of the Haystacks co-op. Once their one-off payments of $4200 have been collected, construction of the solar farm in the Riverina will begin.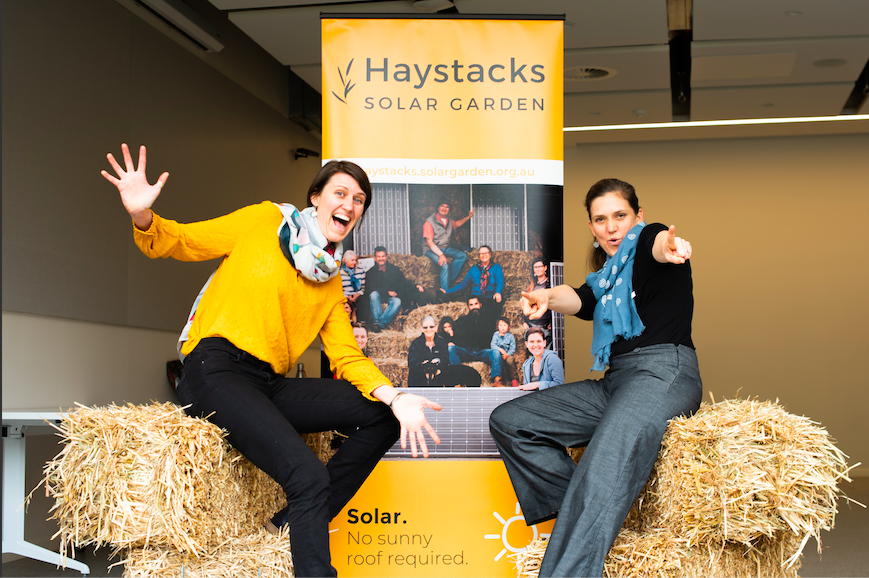 The project will build a 1.5MW solar array in a five-hectare paddock at a farming property in Grong Grong, 68km northwest of Wagga Wagga.
"We expect to start construction in the summer [of 2022-2023] and have the solar farm generating electricity by mid-next year," says Walters. "As soon as it's generating electricity, the solar gardeners will start seeing returns on their electricity bills."
Haystacks Solar Garden is being built by Community Power Agency, Pingala Co-op and Komo Energy – with support from other organisations – and is funded by the NSW Government's Regional Community Energy Fund.
Walters says government support has been crucial for the project, particularly in the development phase.
"In this sector, once a project is ready for investment, there's no shortage of community investors," she says. "But getting to that point is often quite hard, especially for small volunteer-led community organisations."
Walters says now is a crucial time for Australians to increase energy independence and resilience.
"Everybody knows we need to transition to renewables – we have this amazing opportunity," she says.
"We could go from large, centralised, often foreign-owned coalfired power stations to really large solar farms potentially owned by overseas investors. Or we could invest in decentralised, small-scale community-owned electricity generation like we are doing with the Haystacks Solar Garden."
All signs indicate the Federal Government is onboard, too. Its "Powering Australia" plan includes a commitment to co-invest $100 million in 85 community-owned "solar banks". Labor says the initiative could allow more than 25,000 households to share in the benefits of solar power.
"There's an opportunity for people to say, 'I'm paying money for my electricity anyway, how about if I paid that into a community-owned entity, or my community gets together and we start our own solar farm or wind farm?'" says Walters.
"Communities around the country are interested in how they can gain control of their energy future."
This article was first published in Ecogeneration on 24th January 2023 by Chris Ryan.