A Grong Grong farmer is giving the Riverina community the opportunity to buy into the country's first community solar garden.
The Haystacks Solar Garden functions like a community vegetable garden, allowing about 330 community members to purchase a plot in a 3-4 hectare solar array and claim reimbursements on their household power bills as the garden feeds solar power to the grid.
Grong Grong farmer Gemma Meier is leasing a section of her property to the community-owned project, hoping to allow those without the ability to install solar panels at their own home the chance to access solar power.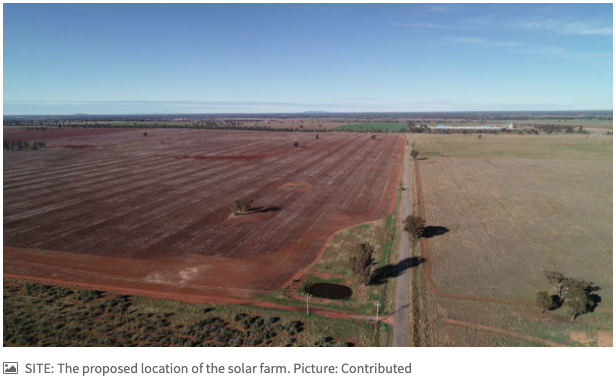 "There's a lot of people who rent who would like to have access to solar, there's a lot of people in old houses who might not want to fix their roof to put solar panels on or they're thinking about selling their house and don't want to make the investment," Ms Meier said.
"So what happens with this is regardless of where you move you still own your solar panels here, you still have your energy."
The Community Power Agency expects those who buy into the project will see a $250-$400 discount on their annual power bills.
Ms Meier said farmers had a role to play in addressing the threat of climate change
"Farmers, like everyone on the planet, we're part of the cause, but that also gives us the keys to be the solution to climate change," she said.
"As a nation we need a national framework to address climate change, but also I think the experience of the last few months of how Australians have responded collectively to wrestle with the pandemic of COVID has shown us that collective individual action is incredibly powerful."
She said many farmers were willing to use some of their own time, money and productive land for environmentally-friendly initiatives such as tree planting, and hosting a solar garden was a great way to participate in generating clean energy without great cost to the farm.
"Community owned, small-scale power stations seem to be an option that's available to farmers at a scale that is not massive," she said.
Ms Meier said Haystacks Solar Garden was currently in the process of submitting a development application for the farm, and will be negotiating with electricity retailers as members come on board in the coming months.
From this Sunday, a series of webinars will be held for Riverina communities to inform them about the project, including Riverina-wide sessions on June 16 and 19 and a session for Wagga and Junee on Wednesday, June 17.
Published in The Daily Advertiser 11 June 2020 – Written by Rachel McDonald