The Rock Kengal Nature Reserve Image credit: Destination NSW
Become a PPA partner for Australia's first large-scale Solar Garden
The 1MW Haystacks Solar Garden will :
Generate an estimated 3.85 GWh of renewable energy annually

Be financed by a community owned cooperative with 333 members

Lead as a highly innovative new solar ownership model for all Australians
Expressions of interest are now being received from corporate entities, brokers or retailers that would like to negotiate the purchase of renewable energy generated from the Haystacks Solar Garden through a Power Purchase Agreement (PPA).
Purchasing your organisation's renewable energy directly from a generation project ensures the provenances and transparency of your energy supply.

The Haystacks Solar Garden presents a unique opportunity to fundamentally change the Australian energy sector through a single Power Purchase Agreement offer.
Be part of pioneering a new way to do solar in Australia – one that is already popular in Germany and the United States.
If your organisation is keen to secure highly ethical renewable energy that promotes regional development, enables access to solar for all energy users and will create lasting change for generations to come, please download the information pack and submit an EOI to be considered as our corporate offtaker. 
Join with us as we create Australia's first large scale solar garden and share in our story of remarkable innovation!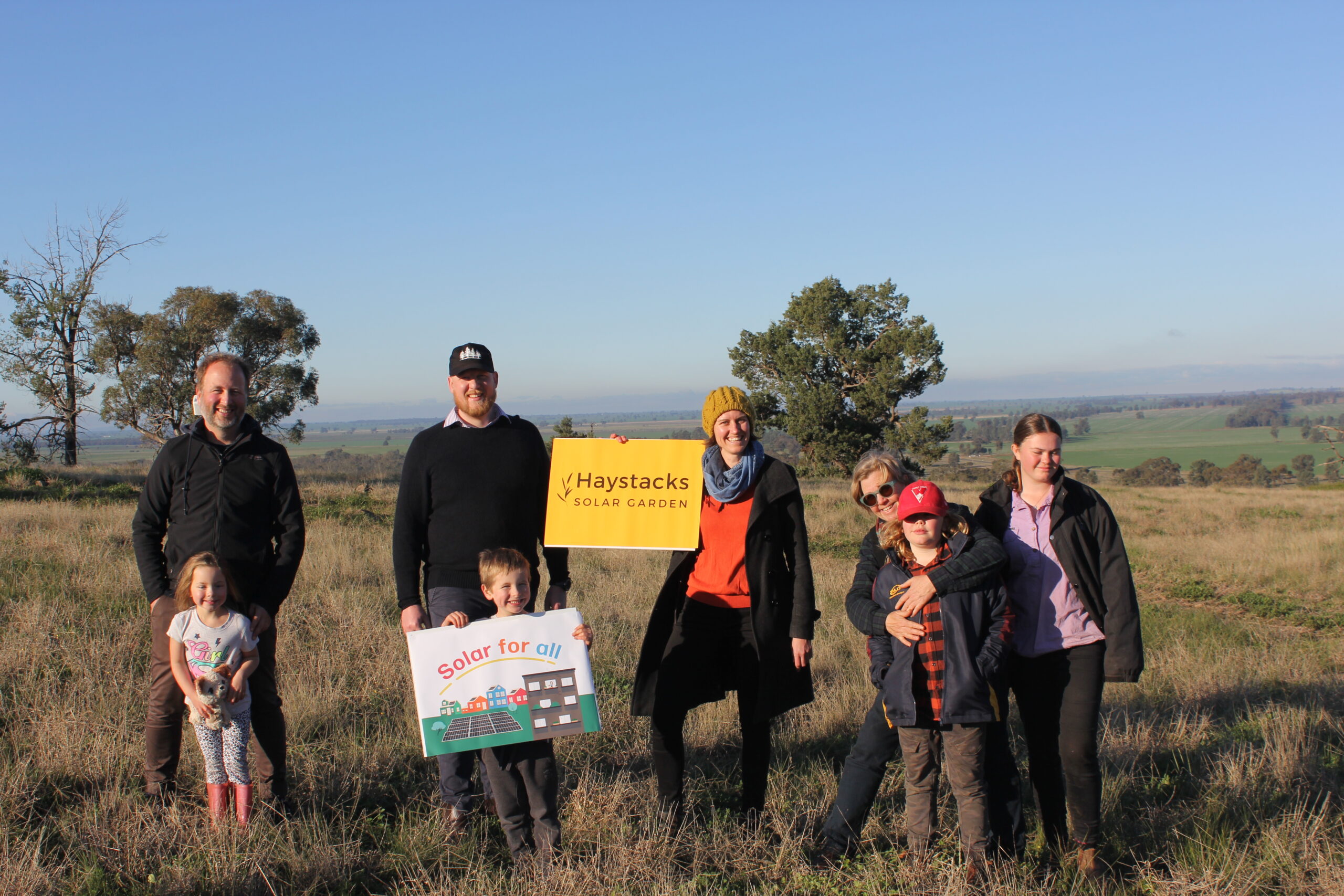 The Haystacks project team and families near the proposed solar garden site in the Riverina
Haystacks Solar Garden will have a 1.7MW (DC) capacity with an estimated annual yield of 3.85GWh per annum

EOI's are welcomed from both consortiums of smaller organisations to make up the total volume of generation on offer or from larger organisations that require volumes beyond the volume on offer.

Ideal organisations would be located in NSW, however other locations will be considered.

For full details and to get in contact please download the EOI information pack here